About
Long Island
Initially called by the Arawak name "Yuma," Long Island was rechristened "Fernandina" by Christopher Columbus on his first voyage to the New World in 1492, after Spain's King Ferdinand. The island reportedly earned its current name because a seafarer felt that it took too long to pass the island when he was sailing by. Cape Santa Maria on the northern tip was named after his flagship the Santa Maria. The Island was originally populated by Lucayan Indians when the Spanish arrived but they were gone by the early 1500s, enslaved and taken away by the Spaniards. The island of Long Island is situated between 23 degrees 40' and 22 degrees 50' north latitude and 75 degrees 20' and 74 degrees 50' west longitude. It is about 180 miles south east of Nassau, New Providence. The island itself is approximately 76 miles long with 73.4 miles of paved road which stretches from Gordon's in the south to Seymour's in the north. The width of the island ranges from less than one mile to approximately four miles at it's widest. It has an area of 230 square miles and is considered by many to be very picturesque. The island is divided by the Tropic of Cancer and bordered by two very different coasts, one with rocky cliffs and caves that dip suddenly into the sea on the Atlantic Ocean side and the other with broad beaches on the Caribbean Sea side. The layout of the land has it's contrasts as well. Sloping hills are dominant in the northeast, while low hillsides make up the southern portion of the island. The second highest point in The Bahamas is found on Long Island. It is commonly called Wood Hill with a height of 178 ft. above sea level and found in the settlement of Mortimers on the southern end. Long Island is the home of many unique features such as the world's second deepest salt water blue hole, Dean's Blue Hole. It plunges 202 meters (663ft).
Temperatures range from 70 to 90 degrees during the day and 60 to 75 degrees at night, year-round. Seawater temperature ranges from 72 degrees in February to 84 degrees in August.
Long Island, Bahamas currency is the Bahamian dollar, which is on par with the American dollar. Credit and debit cards are accepted at many locations on the island, but cash is still preferred and remarkably, it's still legal in The Bahamas. There are no available banks on Long Island, only an automatic teller machine (ATM).
The entry requirement for U.S. residents is proof of citizenship, in the form of a passport. All U.S. citizens and foreign nationals traveling to the United States from The Bahamas, are required to present a valid passport or another secure document accepted by United States Customs and Border Protection.
AIRLINE SERVICES: Deadman's Cay Airport (LGI) and Stella Maris Airport (SML) serve Long Island departures and arrivals.
Bahamasair: 242-702-4140
Southern Air Charter: 242-337-1722
Island Wings Charter: 242-338-0360
Air Flight Charters: 954-359-0320
Stella Maris Air Service: 242-338-2051
Tropic Air Charters: 954-267-0707

Bahamas Public Holidays
Businesses and some shops are closed or open half day on the following public government holidays and some close early the day before:
New Year's Day
(January 1)
First day of the Gregorian calendar, celebrated with Junkanoo parades in most islands. New Year's Eve sees many beach parties throughout the Bahamas.
Majority Rule Day
(January 10)
Commemorates the day the Bahamian government gained majority rule for the first time, on this day in 1967. It is usually listed with the emancipation of slavery in 1836 and independence from Great Britain in 1973 as the most important events in the history of the Bahamas. Became an official public holiday in 2014. Celebrated with dancing in streets and feasts of traditional Bahamian cuisine.
Good Friday
(Friday before Easter Sunday)
Marks the end of the Lenten season and the beginning of a 4-day holiday weekend. Most Bahamians attend church services and serve fish as the main meal for the day.
Easter Monday
(Monday after Easter Sunday)
The last day of the long Easter holiday weekend. Marks the beginning of the beach picnicking season. Cookouts and regattas are also common.
Whit Monday
(Seventh Monday after Easter)
Marks the end of the Easter cycle, 50 days after Easter Sunday. It is the day after the Feast of Pentecost.
Labour Day
(First Friday in June)
Established by Fawkes in 1961. The day's festivities start with a large parade in downtown Nassau, commencing around 10:00 a.m. The parade is led by bands and Junkanooers, who provide music for the spectators and marchers. The majority of marchers come from labour unions and political parties. The parade ends at the Southern Recreation Grounds, where leaders of the unions and political parties give speeches.
Independence Day
(July 10)
Marks the day Bahamas became a fully independent nation, officially splitting from Great Britain in 1973.[11] A week-long celebration is held leading up to the day of, when a mix of carnival and Junkanoo parades, fireworks, and speeches of freedom and independence are commonplace throughout the islands.
Emancipation Day/August Monday
(First Monday in August)
Celebrates the emancipation of slaves in 1834. Junkanoo, beaching, sailing, and regattas take place throughout the country.
National Heroes' Day
(Second Monday in October)
Formerly Discovery Day or Columbus Day. Became National Heroes' Day in 2013 and is dedicated to honoring national heroes of the Bahamas. A ceremony is held with a speech from the Prime Minister, and national heroes are celebrated with a week full of activities. Many people take this day to have family gatherings and picnics.
Christmas Day
(December 25)
Christmas season in the Bahamas sees many carnivals and festivals throughout the country. Customs have been adopted from other countries, as well, such as gift-giving, feasting, and sending Christmas cards.
Boxing Day
(December 26)
The name comes from the pre-emancipation practice of plantation owners sending boxes to slaves. Usually the wooden boxes were high-quality shipped from England. The day is marked with Junkanoo festivals throughout the nation.
__ Long Island Events __
Mutton Festival in Salt Pond
March:
This festival celebrates what Long Island is best known for all over The Bahamas — Mutton. Featuring a variety of mutton dishes prepared by some of the best cooks on the island, such as mutton souse, curried mutton, steamed mutton, pulled mutton, mutton fritters, baked mutton. Includes live entertainment by local and national Bahamian artists each night of the festival, plus children and adult competitions, such as the three-legged race, corn shucking, and catching the crabs. Produce and products of Long Island Farmer's market, animal judging/competition, petting zoo, goat skin demonstrations and generally all things mutton.
Vertical Blue Free Diving Competition at Deans Blue Hole
April:
Vertical Blue is a freediving competition which is held annually at Dean's Blue Hole. It is a judged competition and has been the venue for multiple world and national records for athletes coming from countries all over the world.
Long Island Regatta
June:
The Long Island Regatta is celebrated every year, during the Bahamas Labour Day holiday weekend in June, lasting for up to three days. It is held at the Regatta Site in Salt Pond
Long Island Caves:
Hamilton' Cave: One of the Bahamas largest cave systems. For Cave Tours call (242) 337-0235

Salt Pond Cave:

Stella Maris: Look for the sign marked, "The Cave".

Mortimers: For Cave Tours call 242-337-0235

Dunmore's Caves:

Cartwright's Caves: For Cave Tours call 242-337-0235

Indian Hole Point Cave:
Long Island Snorkeling:
Poseidon Point (Glinton's) – See big tarpon swim through the reef.

Coral Gardens (Stella Maris) – Breathtaking valleys, caves and overhangs, sea turtles.

Columbus Harbour (Glinton's) – Where Columbus first landed and anchored his ships.

Rainbow Reef (Seymours) – Large multi-colored sponges and elkhorn coral.

Newton's Cay (Glinton's) – Protected by lots of coral heads and outer reefs creating a calm, relaxing site.

Rock Pools (Stella Maris) – Tidal pools, small crabs.

Turtle Cove (Deans) – Huge area of turtle grass where you can find lots of shells.

Watermelon Beach (Taits) – Colorful parrotfish and small damsels, staghorn coral.

Dean's Blue Hole (Deans) - Worlds second deapest salt water hole.
---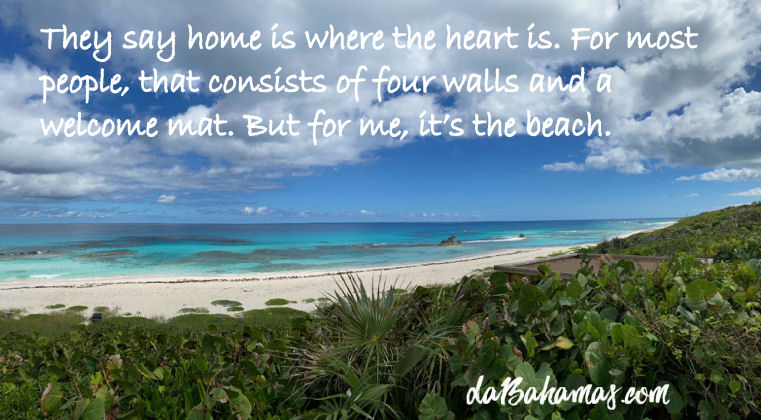 * House for sale in Long Island Bahamas *
Long Island Realtors